For Immediate Release
December 28, 2020
2020 NEW YEAR'S EVE TELEVISION SPECIAL
FROM ONTARIO WITH LOVE;
A CELEBRATION OF HOPE
Stay Home. Stay Safe. We Are Bringing The Experience To You!
Award-winning performers Avril Lavigne, Divine Brown, Jully Black, Measha Brueggergosman, Barenaked Ladies, Loud Luxury, The Tenors,
Front-Line Workers and many more to headline 90-minute spectacular
New Year's Eve celebration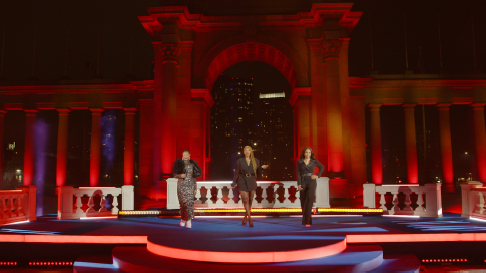 Windsor, ON: On New Year's Eve, Thursday, December 31st, 2020, at 10:30 pm EST, From Ontario With Love: A Celebration of Hope will showcase a powerful, heartfelt 90 minute special event on TVO and the TVO YouTube Channel, as well as facebook livestream at thestar.com. Featuring incredible performances, storytelling, and fireworks, with our cast and crew from Ontario.
Witness some of Ontario's greatest emerging stars and legendary talent including: Avril Lavigne, The Halluci Nation, (Formerly known as A Tribe called Red), AllyDice, Barenaked Ladies, Broadway's Chilina Kennedy, CZN, Divine Brown, Jully Black, Measha Brueggergosman, LOONY, Award winning DJ duo Loud Luxury, NOTIFI, America's Got Talent Finalist Roberta Battaglia, Roy Woods, Ryhan Douglas, Sean Jones, Steele, The Tenors, Wali Shah and award-winning Windsor Symphony Orchestra.
The celebration will also feature powerful Front-line Workers stories from six Ontario locations including Windsor, Ottawa, Niagara, Thunder Bay, Huntsville, and Kingston. The evening will be hosted by Kim's Convenience star Andrew Phung and Canadian television and radio personality Arisa Cox with award- winning DJ duo Loud Luxury, live from Windsor's Capitol Theatre, which will be celebrating its 100th birthday on New Year's Eve.
"On behalf of over 140,000 Members of the Labourers' International Union of North America, who build and strengthen our province, we remain united for a prosperous, healthy and happy new year as we build back stronger, together. On December 31st, in honour of our health-care heroes and all front-line workers, be inspired, empowered, and Feel the Power of the arts as it connects us across our cities, our communities, and the province of Ontario. Stay strong, stay safe." says Joseph Mancinelli, International Vice President and Regional Manager of Central and Eastern Canada of LiUNA.
The show's spectacular opening number from the Princes' Gates in Toronto, will have an extraordinary and diverse group of performers, from legendary stars to new artists, who take us on an incredible journey, making their way to a sensational stage which will feature a show-stopping launch to the show, choreographed by Clarence Ford, with Akeel Henry as Musical Director.
The broadcast production is directed by award-winning director Barry Avrich, produced by JL Entertainment and award-winning producer Jeffrey Latimer and Barry Avrich, with creative director Farley Flex.
Jeffrey Latimer says, "It has been an honour, in this difficult time, to work with so many diverse artists, filmmakers, and production crews from across this province to celebrate hope for our future."
"We are proud to help make this Ontario-made culture and tourism production possible with investments through our agency, Destination Ontario, and our Reconnect program. I commend all those who contributed to make it a resounding success while showcasing much of what Ontario has to offer – even during these unprecedented times," said Lisa MacLeod, Minister of Heritage, Sport, Tourism and Culture Industries. "I wish all Ontarians a very happy new year and to those watching beyond our borders, when it's safe to come back to Ontario, I invite you to visit this remarkable province. Our picturesque landscapes, iconic institutions and historic landmarks truly are yours to discover."
Broadway's Chilina Kennedy
Windsor Symphony Orchestra
ABOUT TVO: Since 1970, TVO has existed to ignite the potential in everyone through the power of learning. Through impactful digital education products, in-depth current affairs, thought-provoking TVO Original documentaries, and award-winning TVO Kids content, we prepare Ontarians for success in school and life. A digital learning and media organization, TVO is funded primarily by the Province of Ontario, and is a registered charity supported by thousands of sponsors and donors. For more information, visit tvo.org and tvokids.com.
ABOUT LIUNA: Established in 1903 the Labourers' International Union of North America is a powerhouse of highly skilled workers who build stronger communities throughout North America. Proudly representing over 140,000 Men and Women across various sectors in Canada, predominately in the construction industry, LiUNA continues to be a leading advocate for building a rewarding career in the skilled trades. With over half-a-million members strong across North America, LiUNA Members are community champions, united through collective bargaining agreements, earning competing wages, health and wellness benefits, and the opportunity for advancement. A highly skilled union workforce at the centre of building vibrant and sustainable communities, LiUNA's representation extends to the industrial sector and over 10,000 members throughout Canada's health-care sector. From roads to bridges, tunnels to high-rises, building essential transit and health-care infrastructure, LiUNA members continue to strengthen our communities and are proactive in giving back to the cities we live, work, and build. For more about LiUNA, visit www.LiUNA.ca
For Interviews, Event Information, and all
Community Partner Sponsorships, Please Contact:
With support from the Ontario Government and Ministry of Heritage, Sport, Tourism, and Culture Industries
as well as Destination Ontario, the City of Toronto and Destination Toronto, Pattison Outdoor and the
Toronto Star.
The filming took place under the strict Covid production protocol guidelines and conducted in accordance
with all applicable Ontario regulatory and other public health requirements and restrictions.
Our story telling partner: